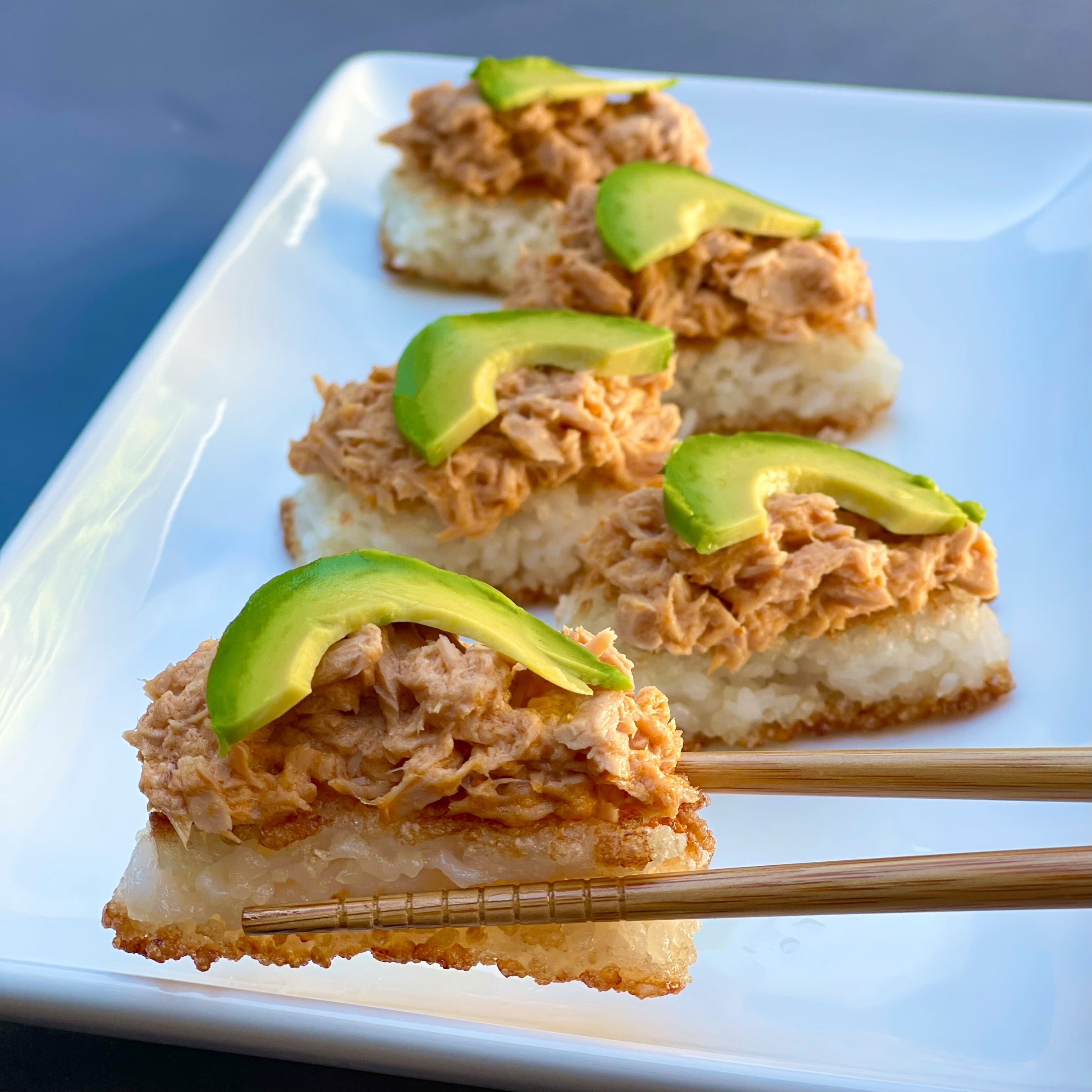 Ingredients: 
2 cans of Natural Catch tuna drained & forked 
2 tablespoons Sir Kensington mayo or mayo of your choice
1 tablespoon Sriracha
2 teaspoons chili oil 
2 cups cooked sushi rice
1 tablespoons rice vinegar 
1 teaspoon white sugar
1/4 teaspoon Himalayan pink salt
1/4 avocado sliced 
1 tablespoon sesame oil 
2 tablespoons vegetable oil 
Directions:
In a small bowl add your rice vinegar, sugar, & salt then place in the microwave until the sugar dissolves (about 30 seconds). Set aside.
Place sushi rice in a large mixing bowl & add the rice vinegar mixture. Mix well with hands (Remember to wet your hands with cold water to prevent rice from sticking).
Mold Rice mixture into a rectangle dish (7 x 5 x 1.5 inches) flatten with hands or spatula & place in fridge until cooled.
In a bowl add tuna, mayo, sriracha, & chili oil. Mix until evenly combined & set aside.
Once Rice is cooled, remove from fridge. Carefully use a spatula and loosen the edges of the rice mold then flip the dish over onto a cutting board to transfer the rice block. 
Wet your knife & cut the rice mold into individual rectangles of rice. 
Coat the bottom of a non-stick pan with sesame and vegetable oil on medium to high heat. Once oil is heated turn heat to medium-low. Transfer the rice pieces onto pan and fry for about 2 mins each side or until golden brown. 
Add a hefty spoonful of the tuna mixture onto the crispy rice & top with a thin slice of avocado.
Enjoy with soy sauce! 
Notes:
It is important that you use sushi rice in this recipe. You can either prepare the rice yourself, or make life easier for yourself and pick up pre-made sushi rice from your favorite sushi restaurant. This saves you plenty of time.