The Greatest Lightly Smoked Sardines of All Time
Natural Catch - Natural Wild Sardines
THE GOLD STANDARD
The plan was to not only bring the very best canned Tuna Fish the USA has ever seen, but to also introduce our PERFECTED Sardines to the market. When it comes to supreme quality canned fish items, Natural Catch separates themselves from the rest of the pack. Our Canned Tuna Fish has earned our customers trust, and we have never been more confident than ever before that Sardine lovers will agree that these are THE GOLD STANDARD of Sardines.
Our "Lightly Smoked Sardines" are not only something we specialize in, it's something we live for. This has been part of our plan all along, once we saw the enthusiasm our customers have for quality fish items, we knew it was time to get to work and introduce our Sardines to the world.
Sardines are crowned to be one of the healthiest and nutritious food you can ever put in your body, so why not go with the very best quality?
Quality Produced From Enthusiasm
Natural Catch Lightly Smoked Wild Sardines
Why are we so confident in our Lightly Smoked Sardines?
When it comes to Sardines, it's how you catch them and handle them. With Sardines being of a smaller fish, it is of the highest importance you handle them with EXTREME care from start to finish. The care we give our sardines comes from our deep rooted love and enthusiasm we have for the fish. Like we said before, WE LIVE FOR THIS. Sardines are the SUPERFOOD of the future, and that will only truly happen if produced properly.
INGREDIENTS: SARDINES, ORGANIC EXTRA VIRGIN OLIVE OIL. WATER, SEA SALT, AQUEOUS NATURAL SMOKE.
What Sardines Should Look Like
Natural Catch - What Sardines Should Look Like
Our Sardines look different from other brands and that's because we take the time to properly catch them, care for them and treat them at the highest level of care. Natural Catch is known for quality, and we have an obligation to our customers to keep living up to that level of quality they expect. For us it's personal, we believe canned fish should be consumed at an exponentially higher quality than the Supermarkets have been selling to American Consumers.
Sardines should look pleasing, like it was served at a high quality restaurant. The extra step we take in the presentation and texture of our product is a huge contributing factor as to why our Sardines excel in taste.
Why Eat Natural Catch Sardines?
Sardines, The Superfood Of The Future
We believe Sardines are truly the Superfood of the future, and instead of reading the benefits from us, we're going to display the benefits that are posted directly from WEBMD.
Potential Health Benefits of Canned Sardines
The nutritional profile of canned sardines makes them a valuable food for most people. Sardines also provide these possible health benefits:
Better Heart Health
The omega-3 fatty acids found in fish work to protect the cardiovascular system. Omega-3s stabilize heart rhythms, decrease triglycerides (fat in your blood), and keep arteries free from blockages. They are highest in oily fish like salmon, mackerel, and sardines. The American Heart Association recommends two servings per week of fatty fish, not fried, with each serving being about 3.5 ounces.
Stronger Bones
Since sardines are consumed bones and all, they are an excellent source of calcium, providing about a third of the amount needed by the average person in each serving. Vitamin D is vital to this process as well, since it allows your body to absorb calcium. Sardines are even richer in vitamin D than in calcium. A third bone-boosting nutrient is phosphorous, which neutralizes acids that could harm your bones. Sardines have phosphorus in abundance, too.
Increased Nerve Function
Up to 40% of older adults may be deficient in vitamin B12. This deficiency can cause poor sensory nerve function and problems with the peripheral nerves. Nerve problems may reduce your mobility, cause you to fall, and eventually lead to disability. One serving of sardines provides over three times the amount of B12 needed by most people.
Every Can Comes With The Best Extra Virgin Olive Oil That is Imported From Spain
High Quality Organic Extra Virgin Olive Oil From Spain
Every can of Natural Catch Sardines comes marinated in "Organic Extra Virgin Olive Oil". Imported from Spain where the highest quality Olive Oil is produced. Natural Catch Sardines paired with Extra Virgin Olive Oil gives an exceptional taste that you will not find anywhere else.
Aside from the taste benefit, Organic Extra Virgin Olive Oil has many health benefits including:
Anti-Inflammatory
Boosts Hair and Skin Health
Protects against Diabetes
Reduces Heart Problems & Diabetes
Reduces High Blood Pressure
Improves Blood Cholesterol Levels
Assists in Weight Loss
Extra Virgin Olive Oil is Keto and Paleo friendly.
Affordable Price
How We Sell High Quality Fish at an Affordable Price
Typically, a successful Fish company makes a deal with a canner who has the sardines and sells it to them at a wholesale price. That company then marks up the price so that when it sells, they make a profit. However, in our situation, we run all phases of the canning, packing and distribution process and sell it directly to the consumer.
There is no middleman marking up the price to take extra money out of your pocket. Enjoy high quality fish at prices you will never find anywhere else.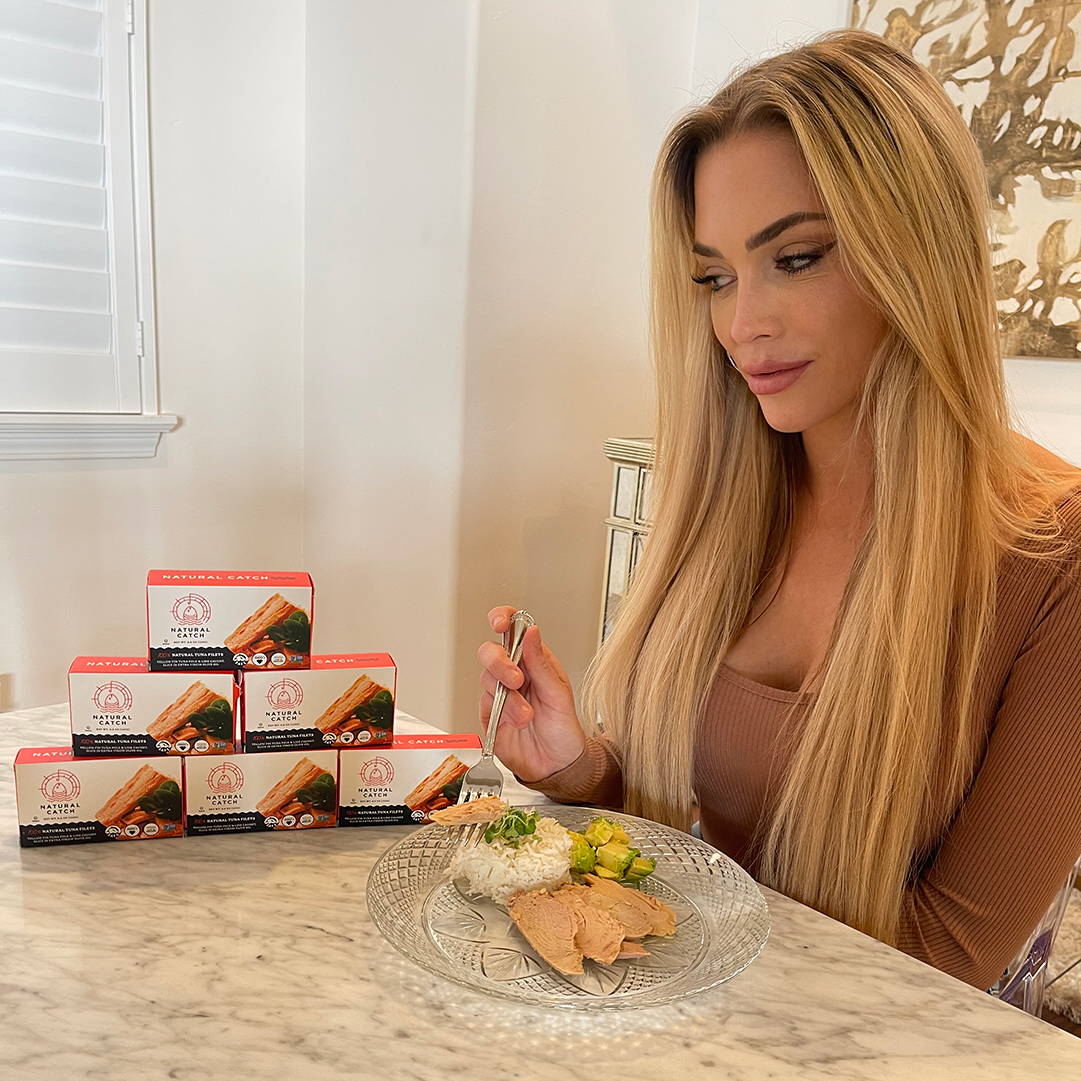 Keto Friendly
Natural Catch Tuna is naturally Keto friendly due to its high protein no carb content.

High Protein
Each package of tuna contains 20 grams of protein.

Paleo Friendly
Tuna is naturally Paleo friendly due to its high protein count and naturally caught methods.

Extremely Long Shelf Life
Our Tuna is carefully packed and has a shelf life 550 Days!
Delicious and Nutritious - See how much!
Nutrition labels for Natural Catch Products
Natural Catch Sardines