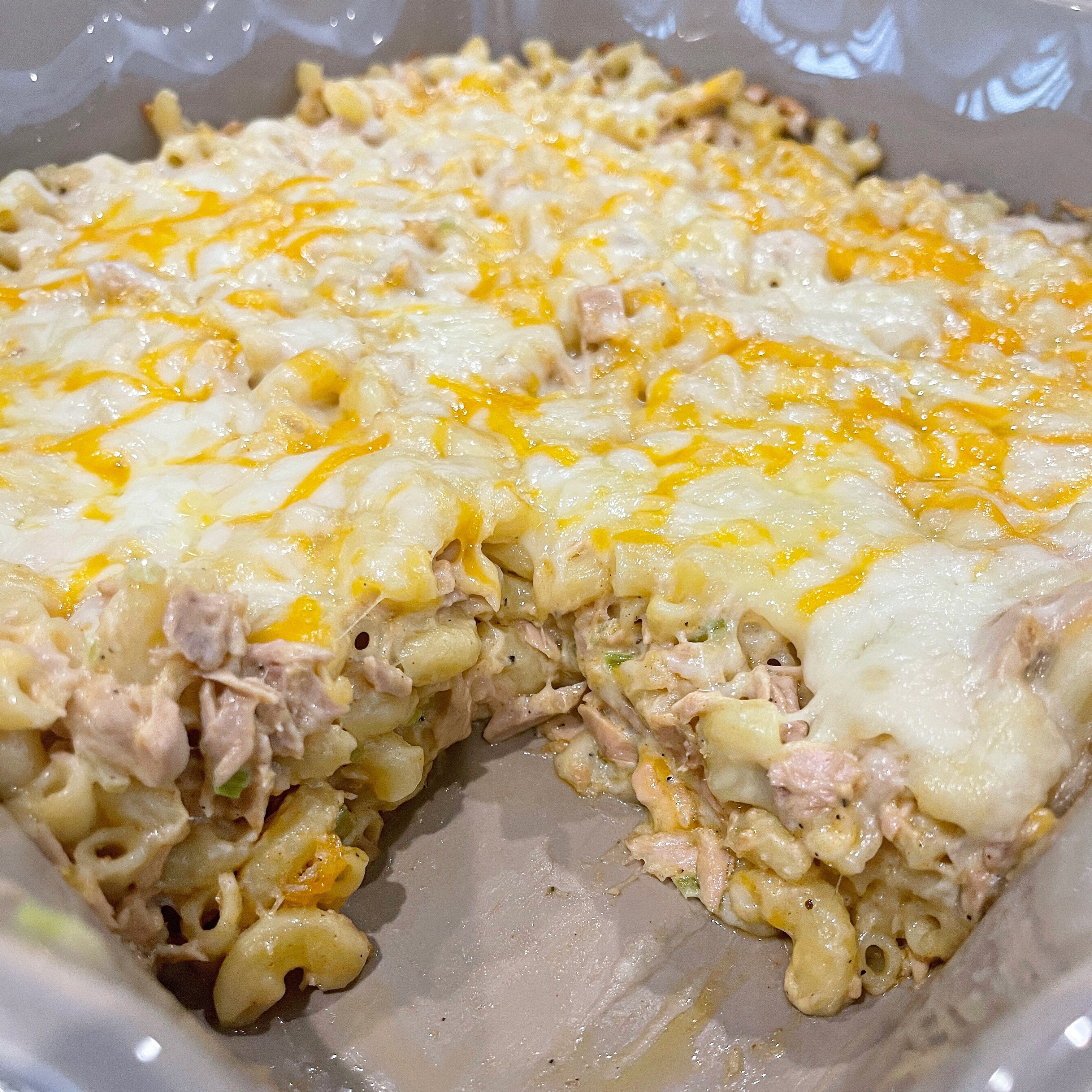 Ingredients:
2 tablespoons salted butter 
2 tablespoons olive oil
1/4 cup onion 
1/3 cup celery
1 1/4 cup milk
3/4 cup heavy cream
3 tablespoons all-purpose flour 
Salt & pepper to taste 
1/4 teaspoon paprika 
3 cups of elbow macaroni
3 cans of Natural Catch tuna (drained)
Shredded Mexican cheese
Shredded Mozzarella cheese
Directions:
Preheat the oven. Set your oven to 350 degrees
Cook the noodles. Bring a large pot of water to a boil over high heat. Add one teaspoon of the salt, followed by the noodles. Reduce the heat to medium and cook until the noodles are just tender, about 7-8 minutes. Drain and set aside.
Prep Veggies & Tuna. Finely chop your onions and celery then set aside. Drain the oil from the cans of tuna; in a bowl fork into small bite size pieces and set aside.
Make the cream of celery soup. Melt the butter & oil olive in a large pan on medium-low heat. Sauté the onions & celery until soft & translucent. Add salt & pepper to taste. Next Add Milk & Heavy Cream, bring to a boil & turn your heat to low. Slowly add your flour and whisk until mixture is thickened and smooth. Add Paprika, stir until evenly mixed. Make sure to taste your soup and add salt to your liking. Add tuna into the mixture.
Pour the Cream of Celery & Tuna Mixture over your Macaroni. Combine gently & transfer to a square baking dish. Sprinkle with Shredded Mexican & Mozzarella cheese on top (as much as you like). Cover lightly with thin foil.
Bake for 25 minutes. Uncover foil & bake for another 10 minutes.
Serve hot; (optional) Add dashes of tabasco for a spicy kick & ENJOY!